When my grandmother passed away, one of her belongings that I acquired was a little wooden hamper that stood at the top of her stairs and held all of her art supplies. It was small and (somewhat) easy to transport 1800 miles across the country to where I was living in Denver (if you happen to know someone who is driving across the country, like I did), and most importantly it reminded me of her.
Now this thing was beat up, scratched, and didn't match anything that I had. But I loved it, because it was my grandmother's. For six years I have used this as a side table and it holds my sheets, linens, table runners, etc. I have always been afraid to re-paint or re-finish it, because I didn't want to ruin it. Also, I have this vague memory of my grandmother telling me that her father made it. My mom says my grandmother bought it, but I like the romantic notion that someone in my family MADE this piece, and now it is mine to love. (If anyone in my family is reading this, don't burst my bubble!)
When I moved into my new home, I decided to be brave and paint it. What is the worst that can happen, right? If I don't like it, I can strip it and paint it another color or stain it. As long as I still have the bones of the piece, it will be ok, right? RIGHT?! (here is where you assure me that I am not making a catastrophic mistake!!)
Here is the before:
You can see how scratched and dated it was. The front drawers are fake drawers, and the top opens.
Here is the during:
I removed all of the hardware. Since I was going to be painting it two colors in hopes of achieving that "french cottage two-toned look," I taped up the front "drawers" using frog tape - which was a freebie from Miss Mustard Seed at the Luckett's Spring Market. I was impressed by how easy the tape was to use and how it withheld under the paint.
Here it is with just the Old White Chalk Paint, before I painted the drawers.
I had planned on replacing the knobs because they were pretty grungy, but I realized that with a little goo-gone these things shined up to be quite cute. Plus, they had "Japan Porcelain" stamped on the back, and they began to grow on me.
And here is the after:
I like how you can see the some of the slats of the wood through the paint. I placed a simple clear based lamp on it, a silver gravy boat filled with Gardenia scented silk white flowers, and an old fashioned clock.

I chose these two colors (Annie Sloan's Old White and Louis Blue, followed up by clear wax) because there is quite a bit of white and blue in my guest bedroom (or Hotel Room number 5). Not only is there white and blue in my comforter, but there is also....
...... this little painting with a chippy blue frame, which I am IN LOVE with.
And this blue chair with killer legs, and the vintage-y map of Paris monuments above it.
In the end, I am happy with the transformation, and I do not think my grandmother is rolling over in her urn. :)
This was shared with:
Boogie Board Cottage's
Masterpiece Monday
Passionately Artistic's
Linking Party
A Beach Cottage's
Good Life Wednesday Linking Party
The Shabby Creek Cottage's
Transformation Thursday
Perfectly Imperfect's
Linky Party
Common Ground's
Vintage Inspired Friday
Saved By Love Creation
's Thrifty Thursday Blog Hop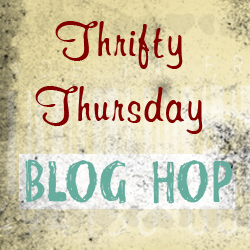 Miss Mustard Seed'
s Furniture Friday
WhisperWood Cottage's
Authentic Style Series